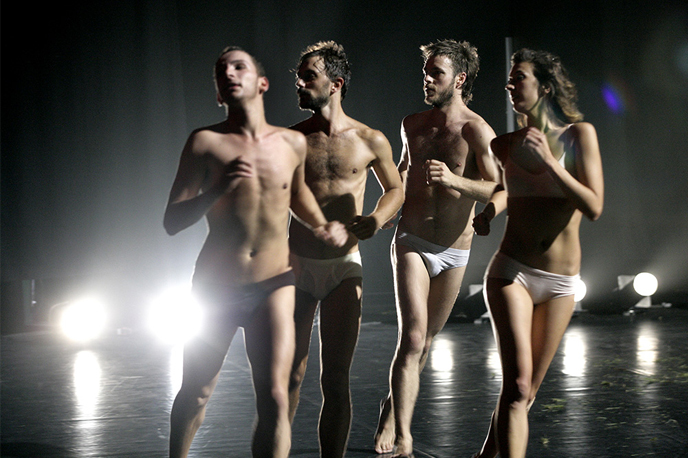 About Balletlab
"BalletLab is a provocative outstanding company in the upper league of Australian contemporary dance." - The Australian Review
"It's massively brave dance making" - John Bailey (Capital Idea, blog)

"It feels like the future" - Chloe Smethurst, The Age

"With the sold-out season of BalletLab's Aviary: A Suite for the Bird, Phillip Adams reaffirms his status not just as an edgy choreographer but a major artist ... Aviary is a work in archetypal BalletLab style that challenges as much as it delivers. Love him or hate him, Phillip Adams is a game-changing pace-setter in contemporary dance." - Rita Dimasi, ArtsHub

"Phillip Adams is one the few Melbourne artists whose work approaches the sublime in the most sophisticated sense of the term - his choreography often exceeds the boundaries of the rational mind to produce an experience beyond words, logic or interpretation." - John Bailey, Sunday Age

Phillip Adams BalletLab was established in 1998 by Phillip Adams, Artistic Director on his return from a successful decade-long international career as a dancer, and incorporated as a not-for-profit organisation in 2000. Today, Phillip Adams BalletLab is firmly embedded into the matrix of Australia's dance and performance community through the delivery of artistic programs and works of excellence with a distinctly unique and Australian sensibility, as well as training, education and support for students and emerging dancers and choreographers.

Phillip Adams BalletLab brings significant artistic partners to projects in order to create original works that are proudly made in Melbourne for a global market. We work collaboratively with cross-disciplinary artists who share a similar exacting aesthetic to create extraordinary experiences for audiences that incorporate visual arts, dance and performance based practices. Since its inception in 1998, Phillip Adams BalletLab has toured nationally and internationally, performing at festivals and venues in the USA, China, Denmark, Scotland, Germany, England, Korea, Mongolia, Romania and Bulgaria.
BalletLab debuted with the sell out Melbourne season of Amplification in 1998. Amplification went on to win two Green Room Awards and an Australian Dance Award Nomination. Following the success of Amplification, BalletLab created Upholster (2000), Ei Fallen (2001), The Self-Encasing Trilogy (2002-03), Nativity (2003), Incarnation (2004), Fiction (2004) Origami (2006) Brindabella (2007) Axeman Lullaby (2008), Miracle (2009) and Above/Lamb (2011). Above/Lamb was developed cross-continentally in 2010-2011, in Australia (Above) with BalletLab dancers, and in Mexico (Lamb) with Mexican dance company, Lux Boreal. Lamb premiered in March 2011 in the Festival de Mexico and has since been presented in the USA. Above was presented as part of The Trilogy for the Museum of Old and New Art Festival of Music and Art in January 2011 in Hobart. Aviary (2009-2011) was developed in association with The Australian Ballet and made a world premiere in the Melbourne Festival 2011. Aviary is available for touring in 2012-14.
BalletLab's Brindabella was awarded two Green Room Awards for Best Music and Best Lighting for Dance in 2007. Axeman Lullaby was awarded two Green Room Awards for Best Choreography and Best Music, and received a Helpmann Award Nomination (Best Choreography) in 2009. Miracle was awarded two Green Room Awards for Best Lighting and Best Dance/Music composition and Performance from five nominations in 2010. It also received three Helpmann Award Nominations (Best Choreography, Best Sound Design and Best New Australian Work) in 2010.
Most recently, Phillip Adams BalletLab was announced as the Winner of the 2012 Green Room Award for Dance Design. This award was received for outstanding collaborative work with Toni Maticevski (Costumes), Richard Nylon (Millinery), Matthew Bird (Nest Design and Backdrop), Gavin Brown (Curtain Design) and Benjamin Cisterne (Lighting) for Aviary, which premiered at Melbourne Festival 2011 and was also a highlight of MONA FOMA 2012.