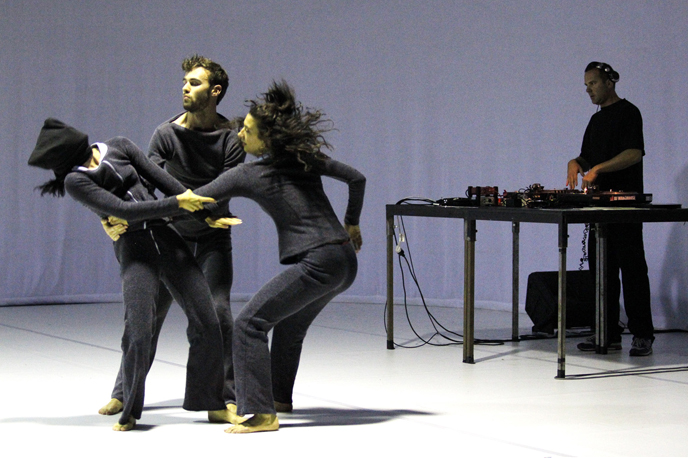 Collaborators
Phillip Adams BalletLab has a compelling artistic vision and is supported through the choice of collaborators from many disciplines. Phillip Adams BalletLab has collaborated with and commissioned work for various projects from the following artists, architects, designers and composers.
Brook Andrew - Artist
Brook Andrew challenges cultural and historical perception, using installation, text and image to comment on local and global issues regarding race, the media, consumerism and history. Apart from drawing inspiration from vernacular objects and institutional and found archive collections, Andrew travels internationally to work with communities and museum collections.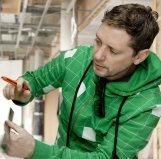 Matthew Bird - Architect
Matthew Bird is a practicing architect and lecturer based in Melbourne. Over the past ten years he has helped realise a range of award-winning projects within Australia's premier architectural firms and is now running his own firm, Studiobird. Studiobird is a design practice conceiving and implementing a range of experimental, architectural, interior design and art-based installation projects. Highlight projects include Alphaomega Apartment: the transformation of a city rental apartment into Michelangelo's escapist retreat, Neervana Haven: an Indian/ Aussie coastal holiday palace in Fairhaven, Great Ocean Road, Domed: the ornamental interior of a dome intersected with a decaying suburban dwelling and Aviary Paradis: a jungle paradise set design for an avian inspired contemporary ballet performance.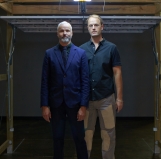 Bluebottle, Design and Production – Lighting Design
Bluebottle was established in 1991 as a means to support like-minded individuals. Years of investigation, research and contribution within the realm of live theatre form the foundation upon which Bluebottle continues to build. This mischievous association deploys an extensive range of knowledge and skills to influence the medium of theatre and beyond. The interchange between various fields informs Bluebottle's ongoing research and capacity to deliver new concepts and outcomes.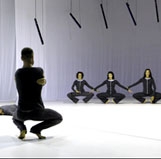 Jeff Busby - Photographer
Jeff Busby has been a commercial freelance photographer for over 25 years with interests in entertainment, architecture, landscape and people marketing projects with particular emphasis on designer based work. Jeff is a long-term partner of Phillip Adams BalletLab, contributing to design and providing superb photo documentation.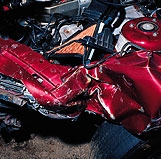 Benjamin Cisterne - Design
Benjamin Cisterne is renowned for creating bold designs, based in light, that are integral to a performance. He is passionate about the capability of light in performance design and its role in art, and works collaboratively on projects across all art forms. Since completing his studies in 2002 at the WA Academy of Performing Arts, Cisterne has been involved in the creation of lighting designs for exhibitions at venues including the Australian War Memorial and the National Sports Museum; architecture, including the Darwin Entertainment Centre; and performance projects including Tim Harbour's Halcyon for The Australian Ballet, Stephanie Lake's Mix Tape and Gideon Obarzanek's Connected for Chunky Move. He has toured extensively as both designer and master electrician and completed artistic and technical residencies in Australia and Europe. He has worked with many choreographers including Gavin Webber (Dancenorth/independent), Phillip Adams (BalletLab), Luke George and Gabrielle Nankivell. Cisterne's work has been recognised by the Green Room Awards on multiple occasions.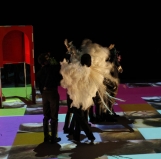 3 Deep Design
3 Deep is a design and image agency based in Australia with representation in New York, Tokyo and Europe. For over 15 years the practice has crafted programmes for the finest galleries, private clients and organisations around the world, notably Steven Klein & Madonna for Louis Vuitton, Six Scents, The Australian Ballet, Seven New York, Toni Maticevski & Materialbyproduct. 3 Deep's clients are discerning and appreciate emotionally and intellectually driven design. The practice believes in delivering memorable and considered experiences that are underpinned by a commitment to ideas, design and luxury. 3 Deep is a long-term creative partner of Phillip Adams BalletLab since 1999.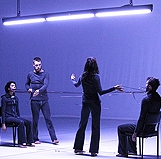 Mikala Dwyer- Visual Artist
For more than 20 years, Mikala Dwyer has pushed the limits of installation, sculpture and performance, now one of Australia's most important contemporary artists with solo shows at major institutions like the Museum of Contemporary Art, Sydney, Australian Centre for Contemporary Art, Melbourne and the Museum of New Zealand, Te Papa Tongarewa. She has also participated in the Sydney and Adelaide Biennales. She was included in Face up: Contemporary Art from Australia at Hamburger Bahnhof in 2003, and Verso Süd at Palazzo Doria Pamphilj in 2000. Residencies include at the Dunedin Public Art Gallery, 200 Gertrude Street, Melbourne and Chapter Arts Centre, Cardiff. She has received numerous scholarships, grants and awards, and her work is held in public collections throughout Australia and New Zealand.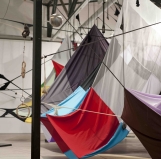 David Franzke - Composer
David Franzke is one of Australia's most experienced composers for theatre. His credits include Sydney Theatre Company (Venus and Adonis, The Wonderful World of Dissocia); Malthouse Theatre (Anna Tregloan's BLACK, The Odyssey, Drink Pepsi Bitch!, The Proscenium); Melbourne Theatre Company (The Joy of Text, The Grenade, August: Osage County, Don Juan in Soho, Birthrights, The Recruit); Ranters Theatre (Intimacy, Holiday) and Anna Tregloan's Skin Flick and The Dictionary of Imaginary Places. Franzke has collaborated with visual artists including David Rosetzky, Daniel Crooks, David Jolly and Andrew Hazewinkel. Film credits include X (2011), Acolytes (2008), Joyride and Designing Dreams (2004).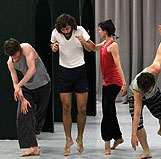 Andrew Hazewinkel – Visual Artist
Andrew Hazewinkel is a multi-awarded, multi-disciplinary artist with a 20 year professional history spanning design, community cultural development practice and an individual studio based practice including more than a decade of exhibiting both nationally and internationally. He works with photography, sculpture, video and installation. Hazewinkel's central interests are located in the entangled psychological correspondence between memory, materials and the body. His current PhD undertaking focuses on the bodily break sites found in damaged classical statuary, as a metaphoric device for discussing social aspects of the contemporary realm.
Toni Maticevski - Fashion designer
Toni Maticevski's work has been described in many ways. Captivating, Beautiful, Intricate, Haunting, Timeless and Mesmerizing. He has a flair for drama and texture and subtle elegance that is in one instance subdued and insanely striking. Mastering and creating many his own techniques, Maticevski has shown how important it is to him to take ideas and envelop them, dream in them and re-invent them. Fascinated and inspired, his work has grown to house his many skills. From ready-to-wear, exceptional hand created made to measure pieces and whimsical bridal. The layers to his ideas continue to build every season and with every piece he creates. For the catwalk, or for a private client, all pieces are crafted and designed for beauty.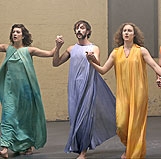 Richard Nylon - Milliner
Richard Nylon is a Melbourne-based milliner/artist, specialising in couture headwear utilising both traditional and non-traditional materials and methods. He has collaborated with fashion designer Gwendolynne Burkin for over a decade, creating headwear for her fashion ranges. Examples of their work are in the Powerhouse Museum's collection and in a recent exhibition at the Powerhouse, Frock Stars. The National Gallery of Victoria holds six of Nylon's works in its collections. His work was included in the Queensland Art Gallery exhibition Hats - An Anthology by Stephen Jones (2010). In the same year he was one of fourteen milliners worldwide to be accepted as a contender for the Hat Designer of the Year award, in conjunction with the designer accessories show Premiere Classe in Paris. In 2011, Nylon's work was presented in the Powerhouse Museum again, as a finalist in the Love Lace international lace award. He teaches Millinery Design and Construction at RMIT University, and is President of the Millinery Association of Australia.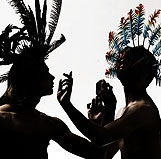 BalletLab welcomes new collaborations and ideas. If you are interested in working with BalletLab, please contact us.