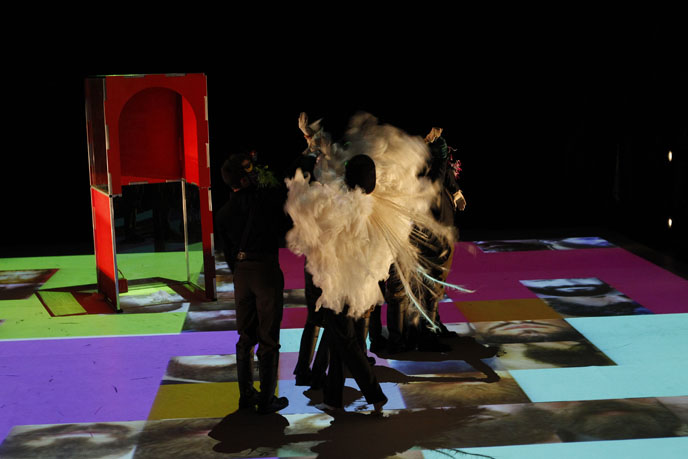 Project History

Aviary's first stage, undertaken in 2009, sought to establish a choreographic basis for the work through cross-pollination across classical 20th century balletic and contemporary dance techniques; Adams worked with BalletLab's dancers and classically trained Australian Ballet dancers. The final result dramatised and contemporised themes of war, masculinity, birds and royalty - common subjects of historical ballet.
In the 2nd stage (held April 2010), the focus of exploration was the figure of the dandy, inspired by Beau Brummell (1778-1840), an arbiter of men's fashion in Regency England. Other examples of dandyism include the UK celebrity and contemporary version, Sebastian Horsley; the short stories of H.H. Munro- a British writer whose witty and sometimes macabre stories satirised Edwardian society and culture and British art stars Gilbert and George. Working with six dancers (five contemporary and one classical) and renowned milliner and Melbourne dandy, Richard Nylon, Phillip pursued a vision of absurdist traditions laid bare. In the third development held December 2010, Adams constructed choreographic material under the mentorship of zoologist and ornithologist Dr Iain Woxvold, expert on bird mating rituals.
Adams envisioned the finale of Aviary as a staged courtship of avian behaviours and in particular the Northern Australia/Papua New Guinea birds of paradise and the bowerbird. Adams accompanies the final act of the performance on a grand piano as improvisational manic interrupter of the bird and 'channeling' of composer Messiaen. The bowerbird has extraordinarily complex courtship and mating behavior, where males build a bower to attract mates, often festooned with a variety of brightly-coloured found and natural objects. The males spend hours arranging these collections, often color-coding them to attract females. According to Dr. Woxvold, bowerbirds provide compelling evidence of the role "nesting" plays in sexual selection and acts as a powerful mechanism that shapes its evolution, producing a vivid metaphor for our own human rituals and interactions.
Please contact Amelia Bartak at BalletLab for information about presenting or investing in this exciting new work. A full range of marketing materials and a value-adding program of lectures and workshops have been developed to support Aviary's presentation in Australia and internationally.