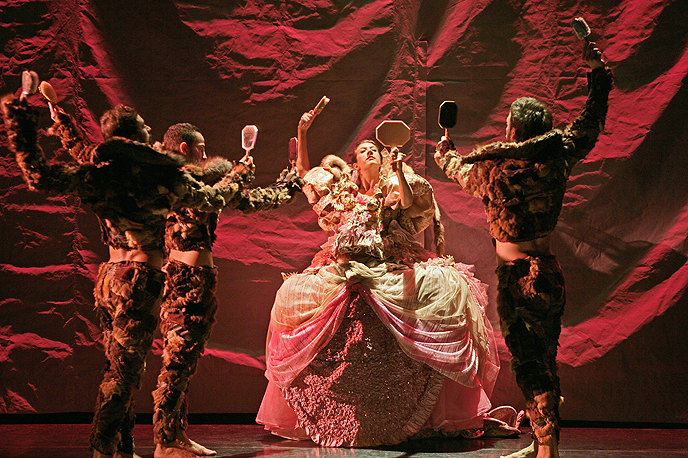 Buy Us Some Time - Play a Vital Role in Phillip Adams BalletLab
You are invited to join a dynamic network of people who support the work of BalletLab and the artistic vision of choreographer and performance maker, Phillip Adams. Help us to achieve our goals through a donation or regular giving, providing vital assistance towards Phillip Adams BalletLab's performances, touring and nurturing of Australian dance.
Buy us some time by donating from $100 to $10,000 in the next 100 days to support our new work development across the coming year.
Phillip Adams BalletLab is an award winning company that aims to shift perceptions of what dance and art making can be. Since its inception in 1998, Phillip Adams BalletLab has toured nationally and internationally, performing at festivals and venues across the world.
We aim to create groundbreaking contemporary dance-based works that stimulate and engage audiences, that develop choreographic practice, that propose new national and international presentation models, and also provide educational opportunities for the next generation of Australian dance artists.
Right now, it's our goal to seek 100 people to gift us $100.
Ten tremendous people to gift us $1000.
And most importantly, one special person to gift us $10,000 - all in the next 100 days.
All donations of $2.00 or more are fully tax-deductible and gratefully accepted at all levels.
Why we are seeking funds?
We're developing three new works right now. We are making a leap of faith in our next work, across architecture, sonic composition and real-time performance to make Tomorrow happen.
We're working with an amazing group of artists, dancers and designers from emerging to established. Brooke Stamp, Garth Paine, Mikala Dwyer, Jo White, Rennie McDougall, Susan Dimasi, Deanne Butterworth, Matthew Day, Clair Peters, Tim Walsh... names you may know and names you will get to know.
How will the funds be used?
Your gift will go directly to support our major projects including education. Artist salaries are our key area of expense on new work - about 60% of all costs. We employ up to 20 artists annually to work on our projects including new work developments.
All donations to Phillip Adams BalletLab are fully tax-deductible and your gift will buy us some time in the studio. It is a labour-intense creative process and our time in the studio is the most precious component of making a new work.
Use your dollars to support our artists and our art. Can you help meet our goals?
You too can play a part in helping us shift perceptions of what dance and art-making can be.
Donate to Phillip Adams BalletLab now and help us to achieve our goals and play a vital role in the future of Australian contemporary dance. We'd greatly appreciate it.
Are donations tax deductible?
Yes. All donations over $2.00 are fully tax deductible.
Will I receive a receipt for my donation?
Yes, immediately sent to you by email when approved.
Donate to BalletLab now
Help us to achieve our goals. Your support is gratefully appreciated at any level, and vital to our creativity, and sustainability.
– Give a one-off donation online
– Give a regular donation online
– Leave a bequest
– Donate by mail: Please download a printable donation form here
Please send donation form through the post to:
Attention: Amelia Bartak
To: Balletlab 2/170 Southbank Blvd
SOUTHBANK VIC 3006
Why don't you call us?
We'd love to have a conversation with you about what you are interested to do.
Call Amelia on (03) 9645 9937.